---
Creating Energized Electrical Work Permits
You can create work permits for working on energized equipment as per the NFPA 70E standard. The standard describes Energized Electrical Work Permits. In EasyPower, the work permit is created as a word file as shown in the picture below. The work permit includes information such the voltage, type of equipment, arc flash hazard calculation results on the equipment, the work task and the PPE required for the work, as well as other useful information.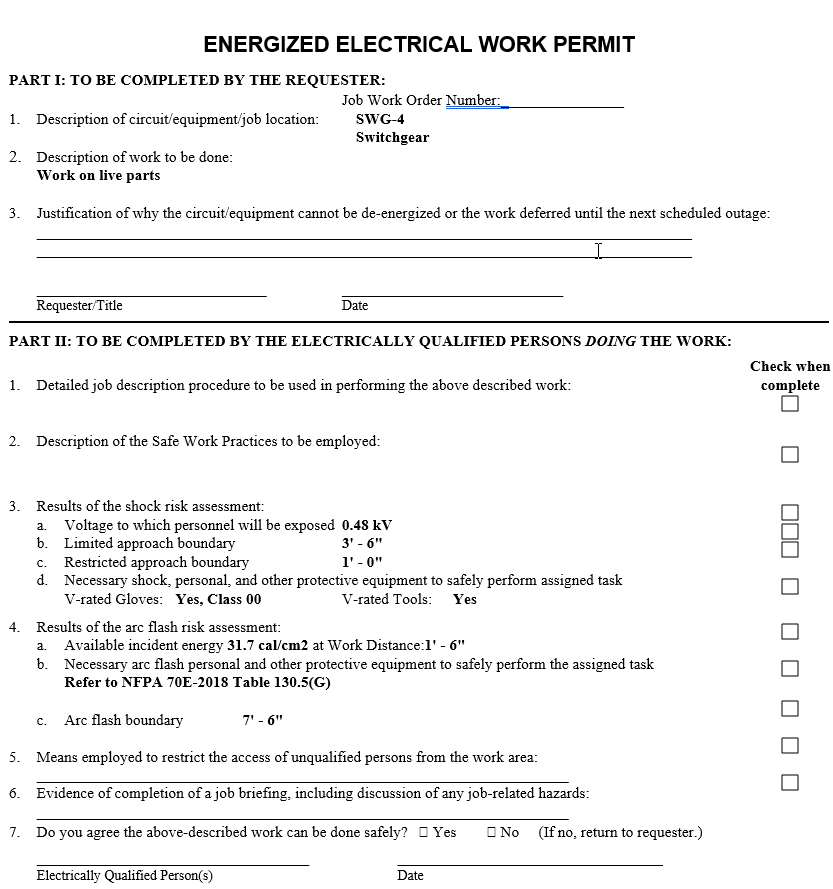 Figure 1: Portion of Sample Work Permit
You must have the ArcFlash™ feature and Microsoft Word installed to create a work permit. Work permits are created for buses, and many equipment types including MCC's, panels, and switchgear.
To create a work permit:
Open the one-line and select

Short Circuit

.
Right-click on a bus or piece of equipment, and select

Arc Flash Work Permit

.
In the

Work Task Dialog

, select they type of task or tasks for which you want to create a work permit, and then click

OK

.

Figure 2: Work Task Dialog Box

Work tasks are equipment specific. You can add or modify them in the Device Library. See Library Work Permit Data for information about modifying the library. See Work Task Dialog Box for more information on this dialog box.

The work permit opens in Microsoft Word, from which you can print the permit.
More Information