Printing Text Reports
If you select to print when a text report window is active, the Print Text Report dialog box is displayed.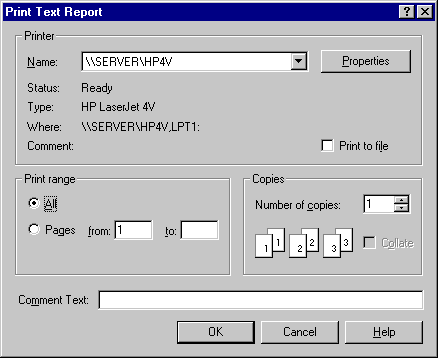 Figure 1: Print Text Report Dialog Box
| Option | Description |
| --- | --- |
| Properties | Click to change printer characteristics. |
| Print to file | Click to send the printout to a file instead of a printer. |
| Print Range | Select which pages of the report you want to print. |
| Copies | Click the number of copies to print. |
| Comment Text | When you print a report, it is often useful to include a brief description. This text is placed in the header of every page. For example, the comment might say "30-cycle results after opening breaker between BUS-15 and TX-22." |
Free-format Reports
Database reports use "Free" format. Since they are not constrained to fixed columns of data, they can make use of the entire page width. If you select a smaller report font in the Fonts tab of the Options dialog box, you see more database data in fewer pages. See Fonts Tab for more information.
More Information