Reliability
EasyPower's Reliability module is based on the IEEE 493 standard, which is commonly known as the "Gold Book." It provides electrical engineers with the tools to quantify the reliability, availability, and cost impact of downtime for their electrical power system networks. It offers one-click analysis of the entire system, and not just a single load branch. Automatic data mapping ensures there is minimal additional work required to perform a reliability assessment on a power system after the one-line diagram is created
You can import data from our library which is populated with information from IEEE 493-2007 Annex Q, which contains decades' worth of empirical reliability data by equipment type. You can also customize the data in the individual data dialog boxes, or by using a spreadsheet view that enables you to easily edit multiple pieces of equipment at once. If you have failure information more appropriate for your specific equipment, you can override the Annex Q numbers to get a more accurate prediction of your system's reliability. You can also create your own custom library to import your specific data. Regardless of the source used, you can automatically map this data to your one-lines so that you don't have to manually enter it.
EasyPower provides you with reports that display information about your system reliability results.
EasyPower follows the cut-set method described in IEEE 493-2007 Annex Q for its reliability calculations. The cut-set method assumes that if the components in the set are cut from the system, power to a load will be interrupted. EasyPower evaluates components in both series and parallel for the probability of failure and provides the analysis results. The program can process up to 3 levels of equipment redundancy, which is necessary to solve all the example problems outlined in IEEE 493.
EasyPower also provides results from two different types of financial analysis related to the reliability of your system.
If you know the cost of downtime for the entire network, or individual load branches, the program provides this result on an annualized basis.
If you know the cost to repair or replace each piece of equipment, these results are summed for all equipment and provided on an annualized basis.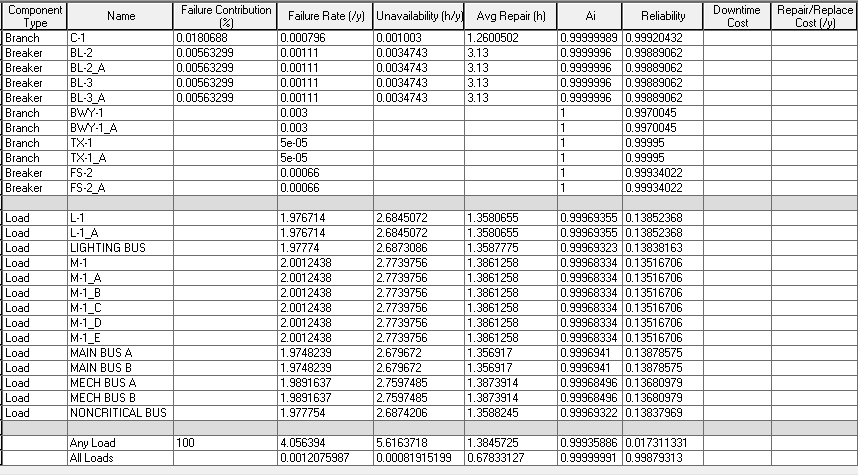 Figure 1: Reliability System Evaluation
More Information