SmartDuty™
SmartDuty™ is the world's first Expert System for the verification of breaker, switch, and fuse duties. SmartDuty™ applies the appropriate short circuit calculation to each device, then compares the calculated currents with the rated duties. Underrated devices and devices within a user-defined threshold are highlighted on the one-line showing the percentage overduty next to each device. Devices within tolerance are not highlighted.
SmartDuty™ calculates the maximum current through the line side and load side of each device for comparison. This eliminates the costly and time consuming problem of standard bus faults not properly accounting for branch contributions.
To use SmartDuty™, click

Equipment Duty on the Short Circuit tab. Fault any or all buses, and the results appear next to each underrated device.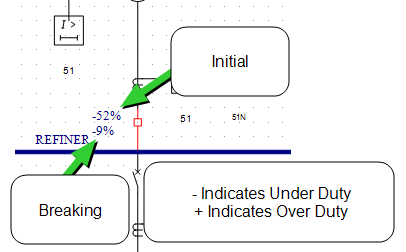 Figure 1: SmartDuty™ One-line Results
Note: The ability to automatically check equipment duties during analysis is only available if you have purchased the SmartDuty™ option to EasyPower.
High voltage breakers show two results. The top result is the IEC initial duty, and the bottom is the breaking duty. A negative number indicates that the device is under duty in that area. A positive number indicates that the device is over duty. Notice in the example that the breaker "BH-5" is highlighted even though both duties are negative. This is because the breaking duty (-9%) is within the user-defined threshold tolerance of 10 percent. Although the breaker is actually 9 percent under duty, a warning is still issued because the tolerance is set at 10 percent. The threshold tolerance provides a warning level indication. The tolerance value can be set in the Short Circuit Options dialog box on the Control tab. To open this dialog box, click Short Circuit > SC Options.
Note: If in Tools > Options > System, the Use 100% convention for displaying analysis overloads/overduties check box is selected, the under duty numbers are reported as positive numbers instead of negative numbers.
Low voltage breakers and high and low voltage fuses are compared directly with IEC initial duties. High voltage switches technically have two ratings: making and breaking. Both ratings are compared directly with the IEC peak duty and the corresponding breaking current respectively.
You can output detailed text reports describing each device, its ratings, and the calculated currents by selecting the Create Equipment Duty Report check box on the Text Output tab of the Short Circuit Options dialog box. To open this dialog box, click Short Circuit > SC Options.
Duty Evaluation for Various Equipment
| | | |
| --- | --- | --- |
| HV Breakers | Peak Making Capacity with Peak Current | Breaking Capacity (AC symmetrical) with Equivalent Breaking AC current |
| LV Breakers | Breaking Capacity (AC symmetrical) with Equivalent Initial AC current |   |
| Fuses | Breaking Capacity (AC symmetrical) with Equivalent Initial AC current |   |
| Switches | Making Capacity (AC symmetrical) with Equivalent Initial AC current |   |
More Information